Vault12 Blog
Protecting The Future of Money
Vault12 Launches First Personal Cryptocurrency Security Solution, Enlists Friends and Family to Safeguard Crypto Assets
Vault12 launched today at San Francisco Blockchain Week as the first personal cryptocurrency security solution to provide distributed, decentralized backup of crypto assets for individual users. Vault12 uses the principles of Hierarchical Threshold Shamir's Secret Sharing and advanced proprietary technology to enable an individual's network of trusted friends and family, known as Guardians, to safeguard their crypto assets. To incentivize Guardians to help secure users' Vaults, Guardians will be paid in Ethereum. The company is backed by Winklevoss Capital, True Ventures, Naval Ravikant and Data Collective.
Vault12 Explainer: Personal Crypto Security from Vault12 on Vimeo
Cryptocurrency assets are routinely stored in local hardware and software wallets or in centralized online accounts. Unfortunately, these approaches have significant drawbacks and weaknesses. Exchanges are vulnerable to hacks and theft, while wallets are often lost or keys are forgotten by owners, resulting in billions of dollars in lost cryptocurrency that will never be retrieved.
"One of the unresolved challenges for the mass adoption of cryptocurrency and the blockchain economy is the continued challenge and burden associated with securing crypto assets," said Max Skibinksy, co-founder and CEO of Vault12. "Previously, to keep our digital money safe, we had to keep our extremely valuable cryptographic backups on pieces of paper and store them in traditional banks. It was ironic. We built Vault12 to be an innovative, convenient solution that replaced this cumbersome process."
Vault12 is the first cryptographic security platform to provide end-to-end management of encrypted shards, ensuring that no one has to manually deal with cryptographic components. Instead of leaving recovery phrases or private keys centralized in a single place, with a single person, on a single device or within a single organization, the platform conveniently enables users to store crypto assets in a storage system that is not located on any cloud server, but only on a distributed network of people and devices.
Vault12 marries decentralized cryptography with a decentralized storage network to form an infrastructure that protects cryptocurrencies with full owner control, complete privacy, reliability, and high availability. Owners of crypto assets can quickly set up digital Vaults that are quantum-resistant and highly resilient to attacks on any part of the cryptostorage infrastructure. Users will be able to access their assets by requesting approval from their Guardians, who will be paid in Ethereum for their services.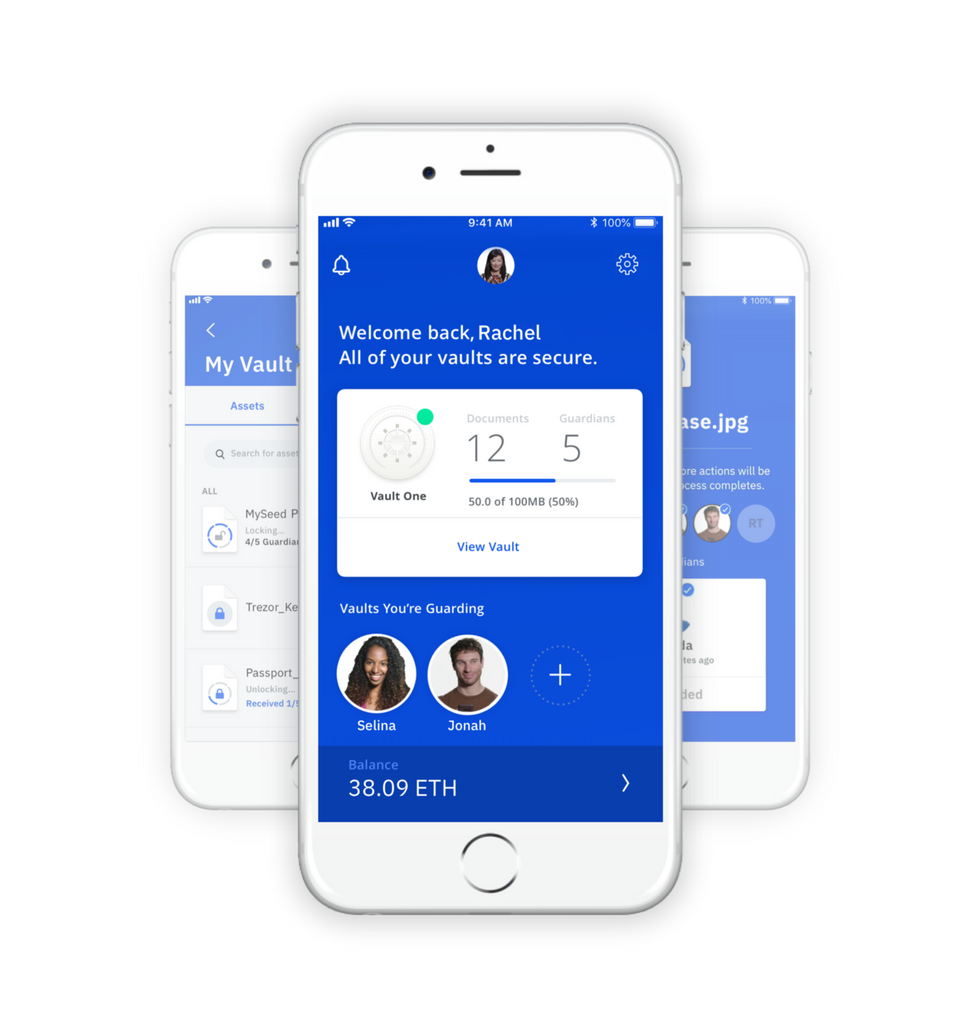 "Safeguarding money is necessary for the crypto economy to flourish," said Cameron Winklevoss of Winklevoss Capital. "Vault12's distributed, decentralized, and server-less approach to security helps reduce friction associated with securing crypto assets. We look forward to seeing the company continue to innovate in the crypto security space."

"Security is the lifeblood of industry, commerce, and leisure," said Jon Callaghan, co-founder of True Ventures. "As more people use decentralized applications, they will need a way to back up their crypto wallets and exchange accounts. Vault12 provides a simple and natural way to reduce risks and combat the fear of forgetting seed phrases and private keys."

"Today's world relies heavily on our social circle in both our personal lives and our professional lives. That's why we're taking a more social approach to cryptography and entrusting our loved ones to guard our assets," said Blake Comagere, co-founder and COO of Vault12. "Today we're safeguarding crypto. In the future, we plan to safeguard everything from legal documents to house keys and more."

"Self-custody for crypto tokens is complicated and dangerous, which is why so many users outsource it to third parties, breaking crypto's promise of 'being your own bank.' Vault12 packages advanced cryptography into a simple user-interface for securing crypto tokens across an inner circle of trusted friends, colleagues, and devices. This provides the security and recoverability of custodying with third-parties while preserving privacy and self-reliance."— Naval Ravikant, founder of AngelList.
Vault12 Product Demo - Dana
Product Demo - Vault12 is the first personal crypto security platform that protects your cryptocurrency assets. Harnessing Decentralized Security (DeSec) it leverages…
What are Vault12's Core Features
Quantum-resistant/Unconditional security: Also known as Information-Theoretic Security, Vaults cannot be broken into even if the adversary had unlimited computing power. The adversary does not have enough information to break the encryption and so the cryptosystem used for Vault12 is considered unbreakable.
Decentralized storage: Cryptocurrency assets are encrypted using HTS3 algorithm and the resulting shards are stored on a mesh network of trusted people and devices, known as Guardians, that you invite to secure your Vault.
Security Policies: The Vault owner can choose from a range of security policies that fit their personal network of Guardians and devices. Security policies define how many people and devices are needed to protect a Vault and the minimum number of approvals necessary to recover assets or a Vault.
Rewards: All Guardians are eligible to earn rewards in the form of ETH, some friends and family may choose to waive their rewards, but others can pre-select a reward amount which is automatically paid monthly via a smart contract.
Opacity: Cryptocurrency assets are not stored online or on a single server. In fact, they are opaquely stored on a mesh network of devices, which are controlled by trusted people or you. The Vault12 Mesh Network is unique to you.
Globally Distributed Storage: By choosing Guardians and devices around the world, there is no single point of failure. Users can lower their risks by having cryptocurrencies stored anywhere around the globe.
Crypto Asset Management: Users can check the status of cryptocurrency Vaults and Guardians at any time and adjust as needed.
What makes Vault12 Unique
Many security products deliver security but are far from convenient. Vault12 has replaced the need for understanding complex security protocols with connecting with a few trusted people in your network.
Vault12 eliminates the need for cloud or local storage to protect crypto assets by encrypting, splitting and distributing them across a trusted network of friends- dramatically reducing the threat/risks.
Rewards — enables guardians to earn ETH as a reward for guarding a vault. Guardians can set their own rewards.
Cryptography (SSS) — First solution to provide End-to-End management of shards, cryptographic operations, and storage making security as natural as placing a few phone calls. Based on Hierarchical Threshold Shamir's Secret Sharing.
Social Custody provides the ability for people to control their own keys with the assistance of a trusted circle of friends. Related and complementary to Institutional or Digital Custody which people undertake for compliance reasons.
Social Recovery is the ability to access assets by requesting that people guarding an asset provide approval. Since only a subset of approval is required this is convenient and secure.
Desktop Uploader. Introduced with paid subscription plans, the Desktop uploader enables Vault owners to upload assets directly from their desktops on Windows and macOS.
Pricing
With the launch of the Vault12 app, subscription plans are also available and customers will be asked to select a plan after 30 days.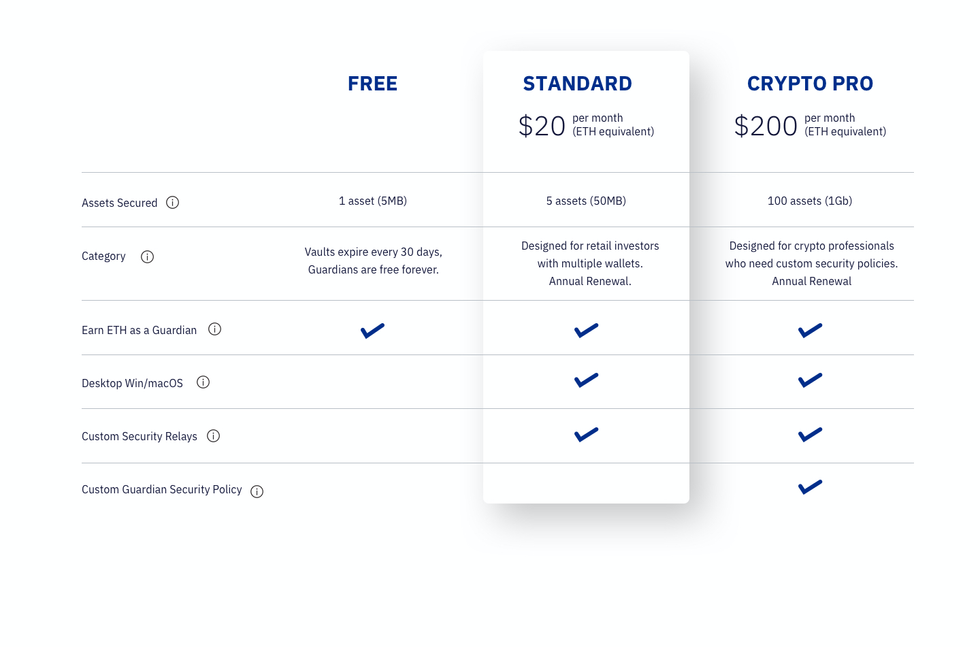 All new Vault owners and Guardians are automatically enrolled in the Free plan. For Guardians, this plan is free forever. When you create a Vault, it will automatically expire at the end of 30-days, and you will have an opportunity to select a paid plan. You can continue on the Free plan, simply recreating your Vault every 30 days. Standard and Crypto Pro plans renew on an annual basis.
Note: The total cost associated with owning a Vault will incur additional incentive payments to Guardians if applicable.
Assets Secured: This defines the number of assets that can be secured in a Vault, and the combined size of assets permitted.
Earn ETH as a Guardian: The ability to set a fee for guarding a vault, and receive ETH payments from the Vault owner directly into an auto-created wallet, the key for the wallet will automatically be stored in your Vault for all plans.
Desktop: The Desktop Uploader for Windows and macOS enables the loading of assets into a Vault from a laptop without a mobile device. This will be downloadable once a customer has enrolled in a paid plan.
Custom Security Relays: Security Relays are used to securely transport encrypted assets between Guardians and Vault owners and to let owners know when Guardians are inactive.
This option provides an advanced configuration that enables Vault owners to specify their own private security relays or those from a network provider. Used to define characteristics such as latency, security and service level agreements.
Custom Guardian Security Policy: Enables a wider range of customization of the numbers of Guardians and the number needed to signal approval for unlock/restore. Custom choices may make sense based on the specifics of devices and people used as Guardians.
Fees: Subscription fees will be assessed in ETH and deducted via smart contracts from the wallet associated with your Vault. Guardians never pay fees, but have a wallet auto-created into which incentive payments can be automatically deposited.
ABOUT VAULT12
Vault12 is the first personal crypto security solution to easily secure, store and protect crypto assets from anywhere in the world. Founded by security, cryptography and gaming veterans, the platform utilizes Hierarchical Threshold Shamir's Secret Sharing and proprietary technology to protect private keys with a trusted network of friends, family, and devices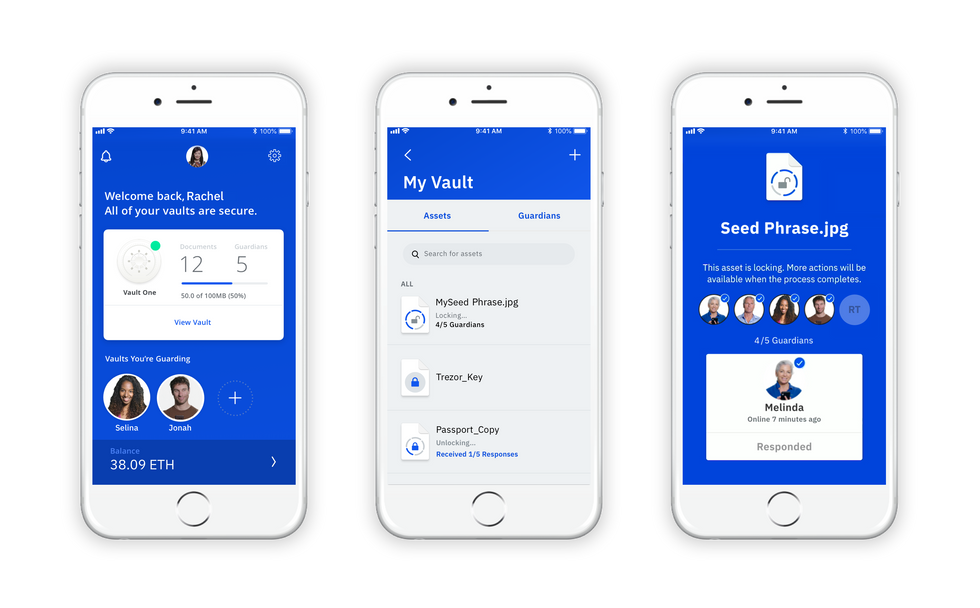 https://www.linkedin.com/company/vault12
https://twitter.com/_vault12_
Vault12 Blog
Protecting The Future of Money
Vault12 Launches First Personal Cryptocurrency Security Solution, Enlists Friends and Family to Safeguard Crypto Assets
Discover More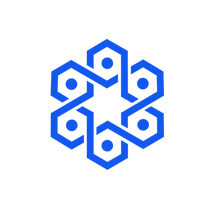 Vault12 Crypto Security
Social Recovery Vault for Digital Asset Security + Digital Inheritance for protecting the future of money.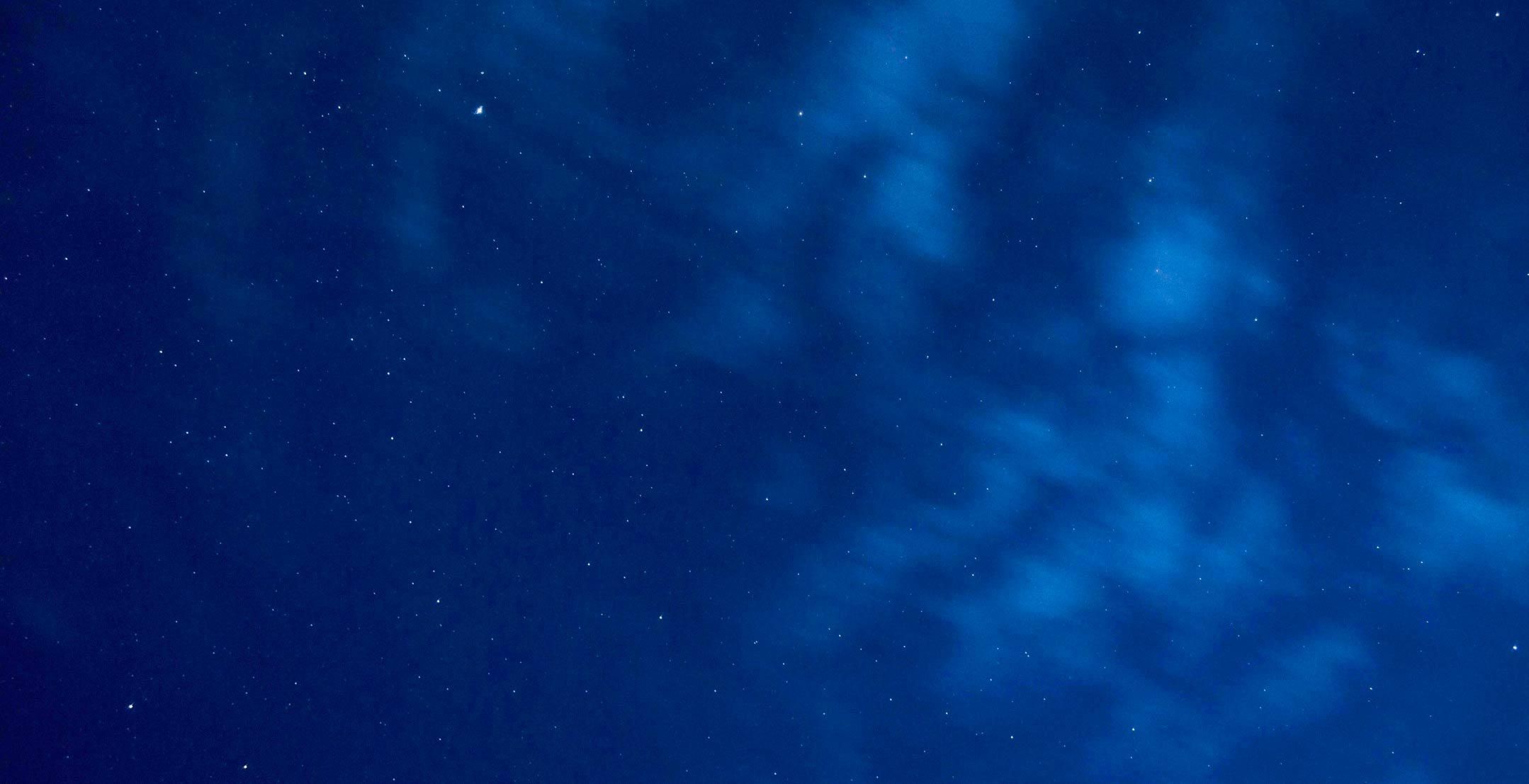 Inheritance and backup for
Cryptocurrency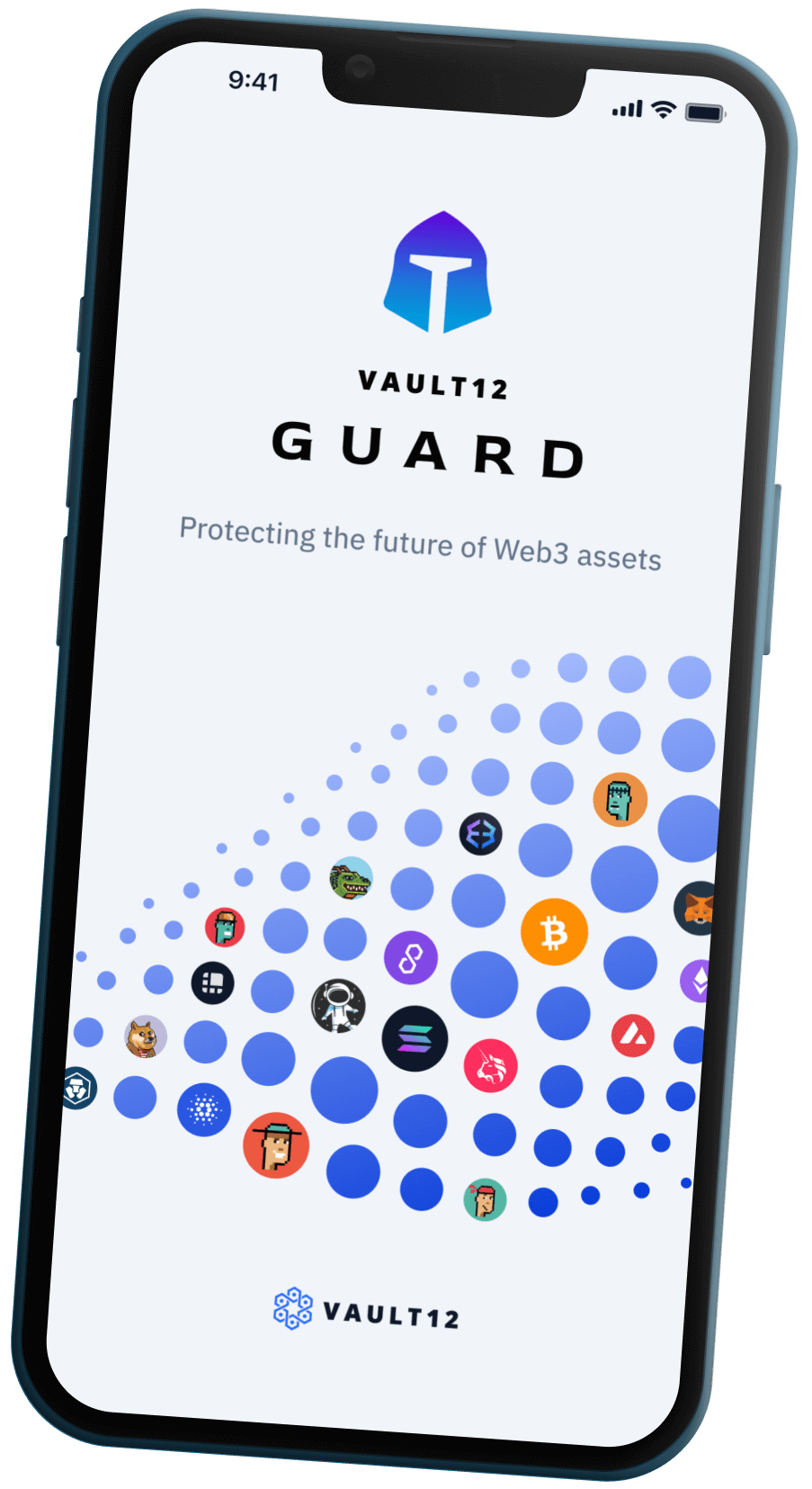 Vault12 Guard Explainer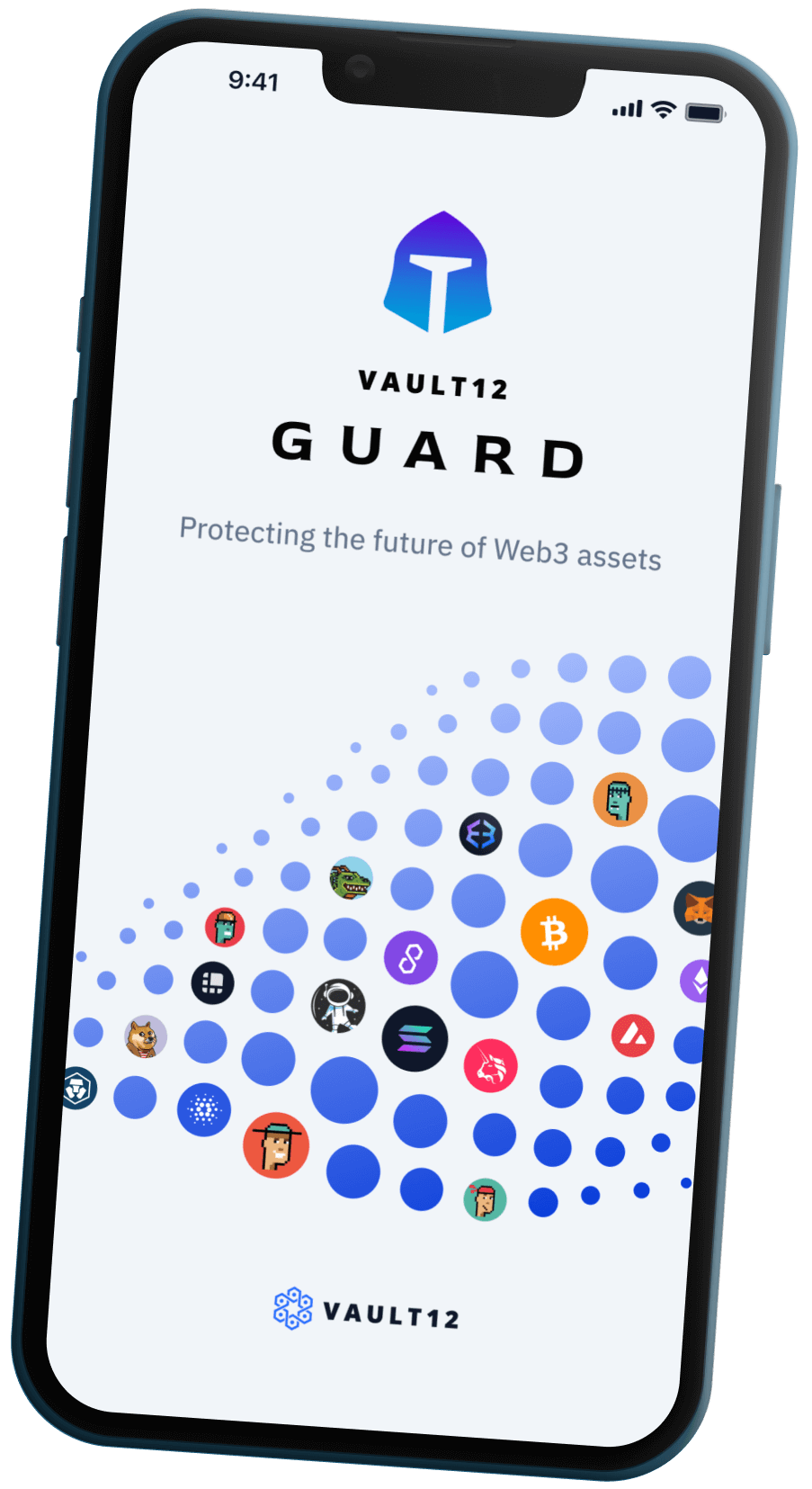 Scroll down
Step-by-step guides for setting up your digital Vault and adding assets, inheriting and restoring Vaults. Vault12 Guard helps you inherit and back up all assets stored in your Vault, including Bitcoin, Ethereum, crypto, private keys, seed phrases, wallets, NFTs, and digital art.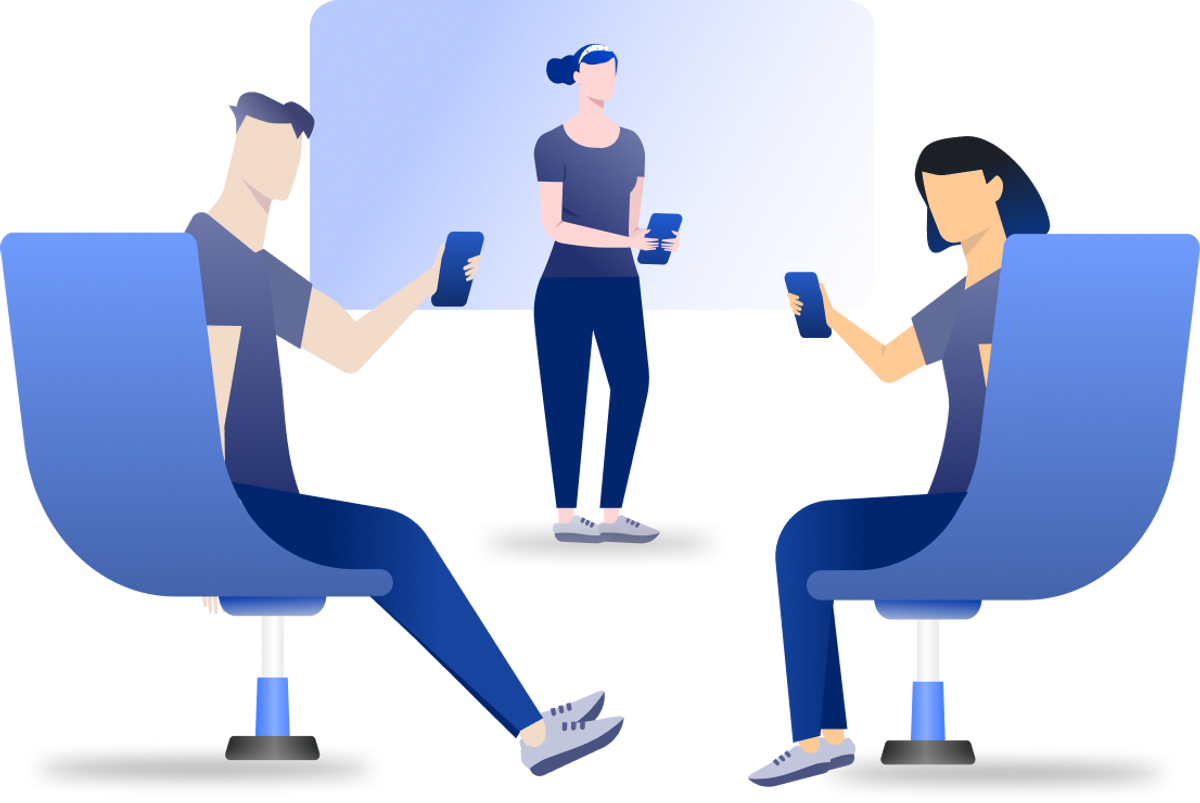 Close
Start protecting your digital assets: Free 30-day trial available today.
Protecting the future of web3 assets
© Vault12. All Rights Reserved, Vault12 Inc.