Vault12 Learn
If you already have a Vault12 Digital Vault and a Seed Phrase, these steps show how to store your Seed Phrase as a Vault12 asset.
There are many ways to back up a seed phrase or add an asset to your Vault, but here we will discuss how to use Vault12 to back up a seed phrase from your preferred wallet.
To back up a seed phrase in Vault12 (The terms "seed phrase" and "Backup code" are used interchangeably), you will complete the following steps:

Create a Digital Vault and complete its setup.
Click the button to "Add Asset," then select "Backup Code."
Create the seed phrase backup.
Save the backup code into your Vault.
Confirm Digital Vault setup
In order to back up a seed phrase, you must have a working Digital Vault. If you have not created a Digital Vault, and assigned Guardians to protect it, please follow these instructions first.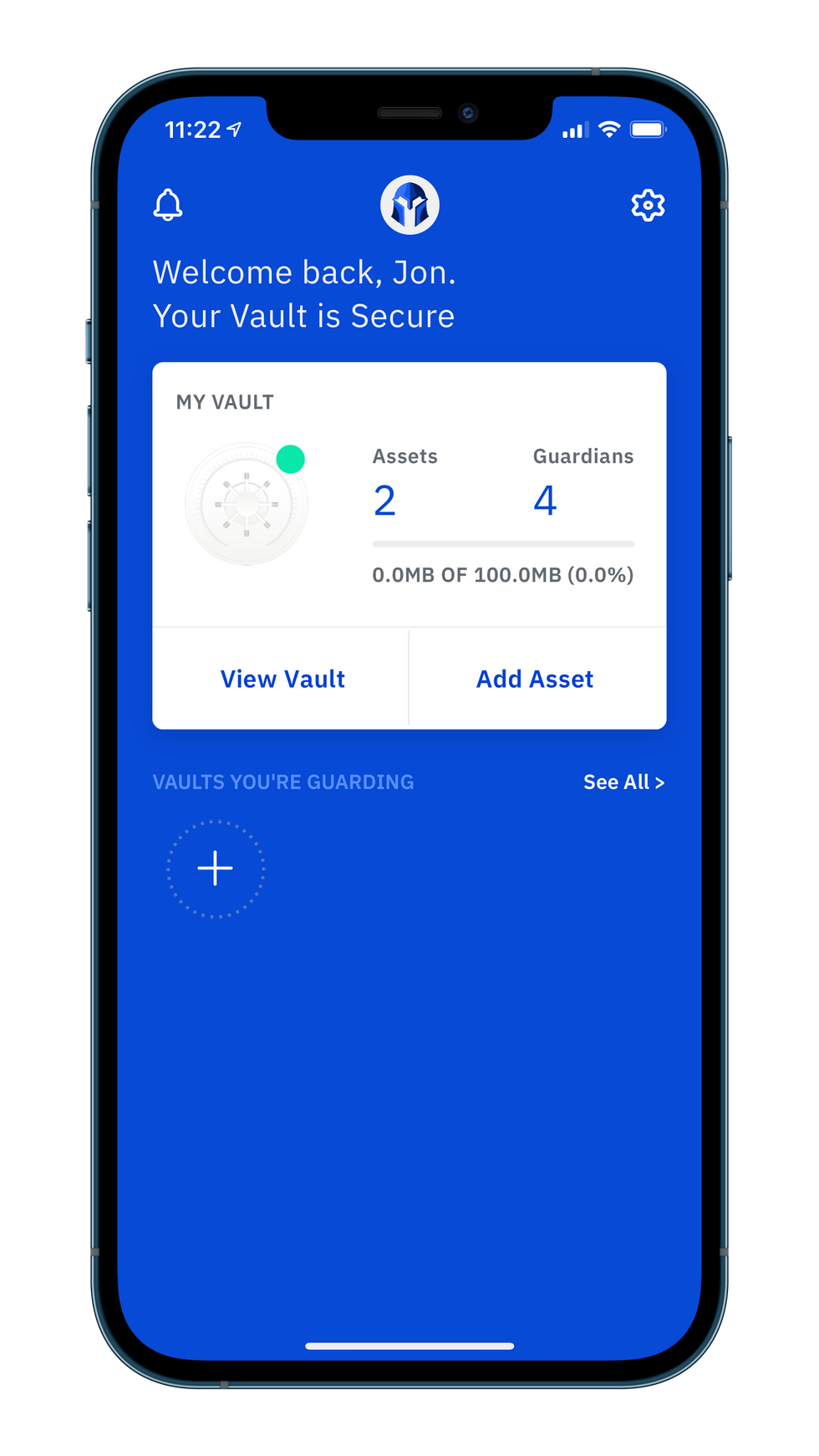 Vault dashboard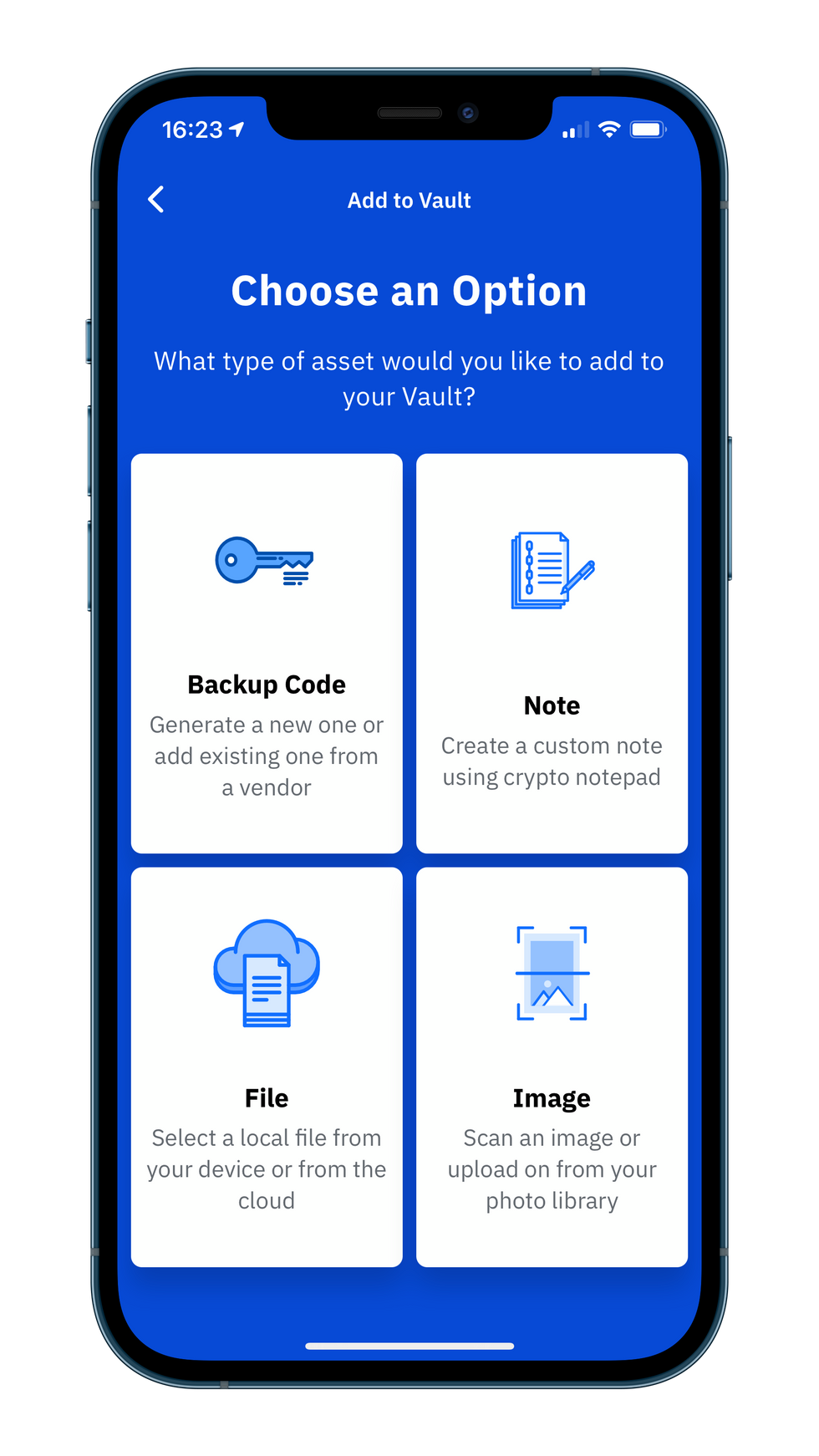 Select Backup Code
Create Seed Phrase asset
Open your wallet and display your seed phrase. Often, right after you setup your wallet, it will ask you to back up your seed phrase - this is a great time to add it to your Vault. Confirm how many words are needed, and select that option in the Vault12 app.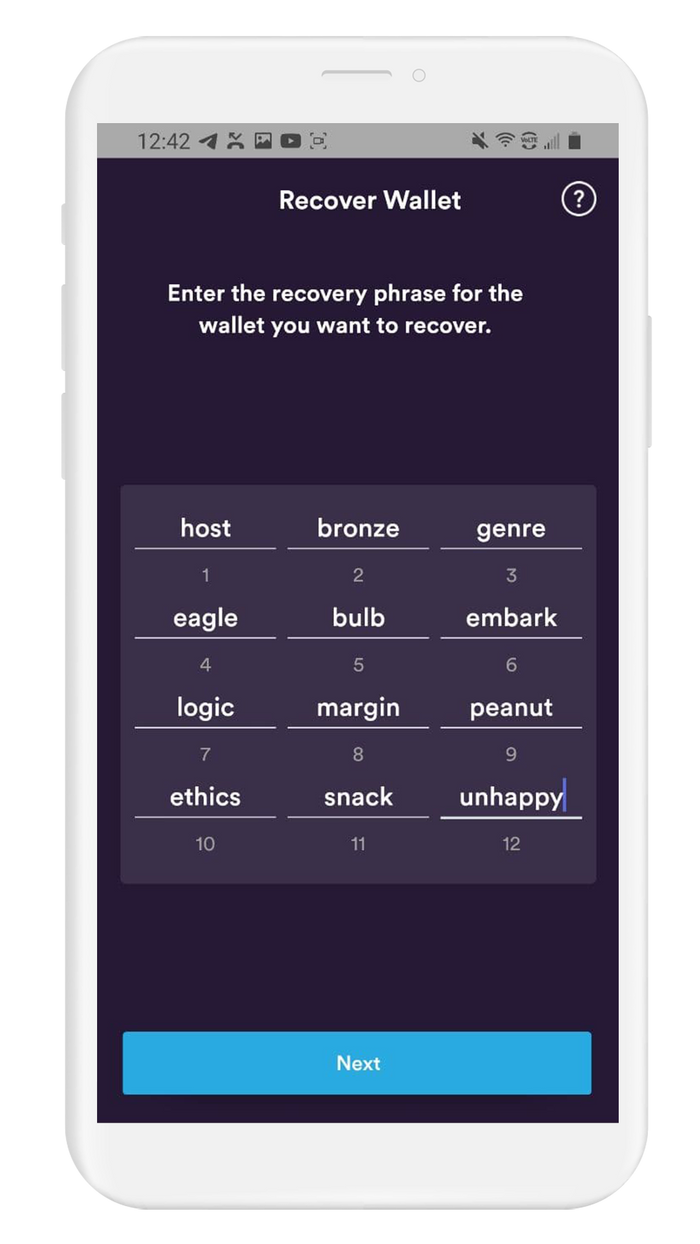 Display seed phrase for your wallet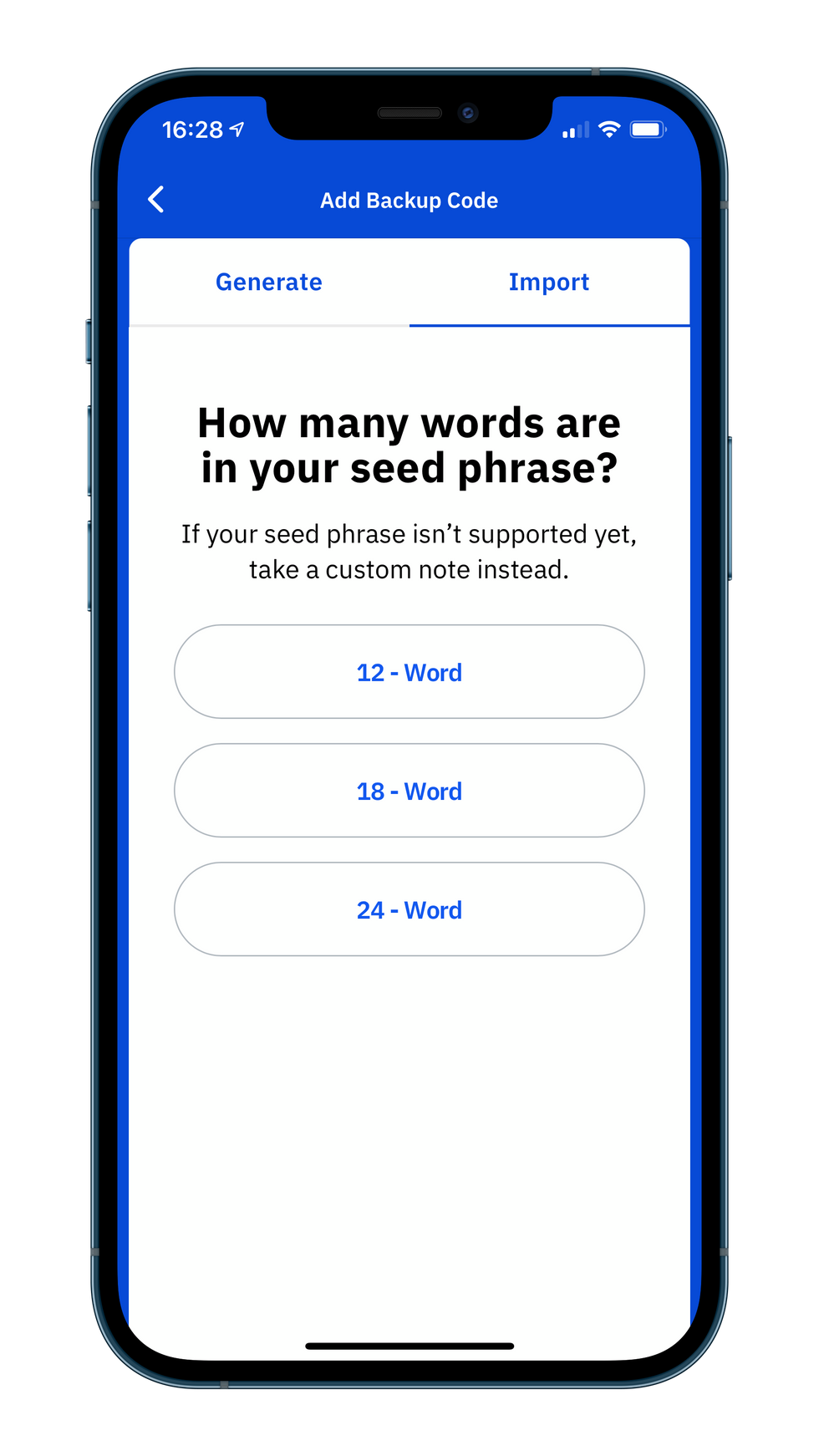 Select the correct length for you seed phrase
Insert Seed Phrase
Carefully enter the seed phrase into your Vault, word by word, in order, until all words have been entered. Be sure to double check your entry against what you see in your wallet.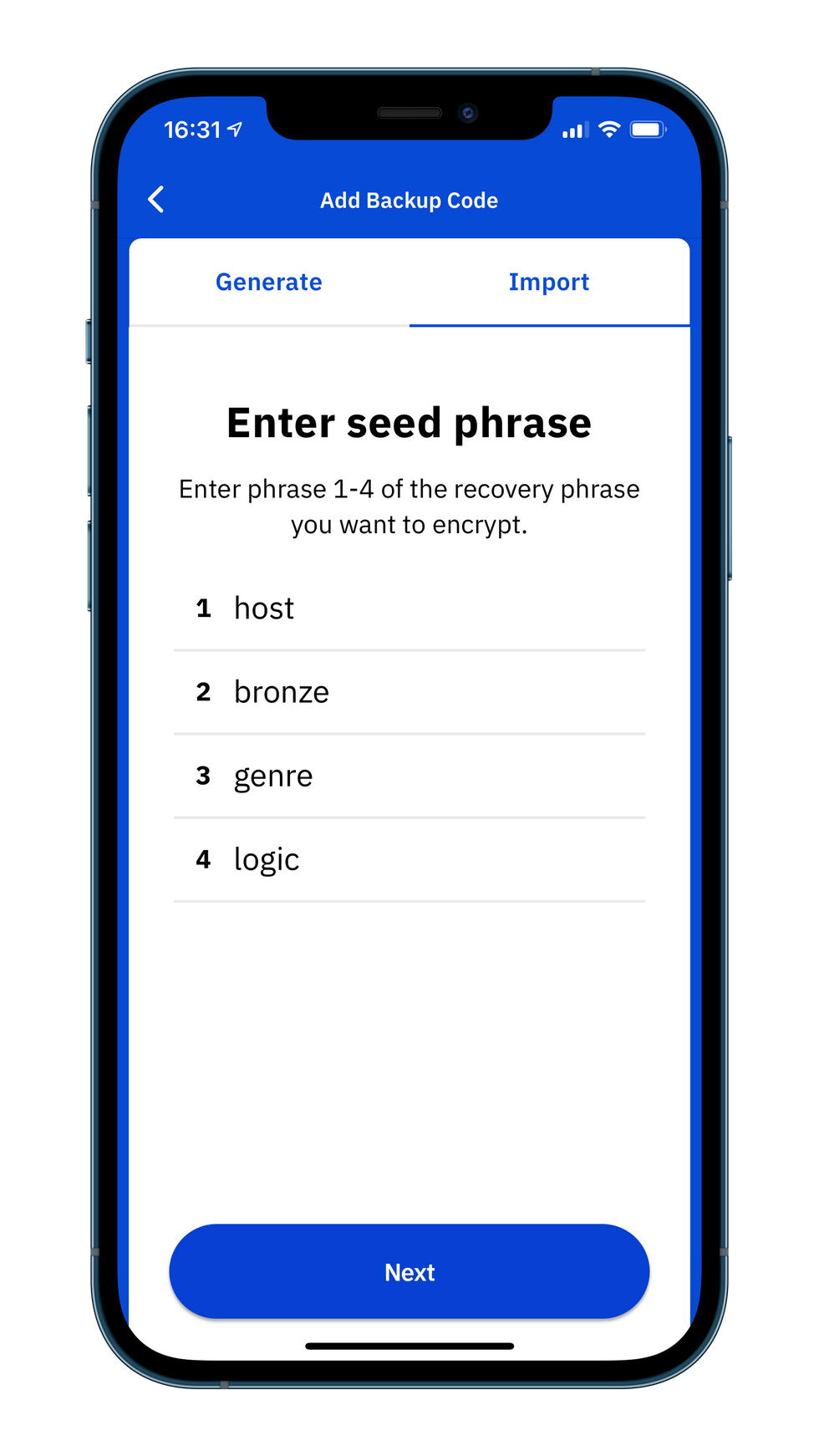 Enter the seed phrase, word by word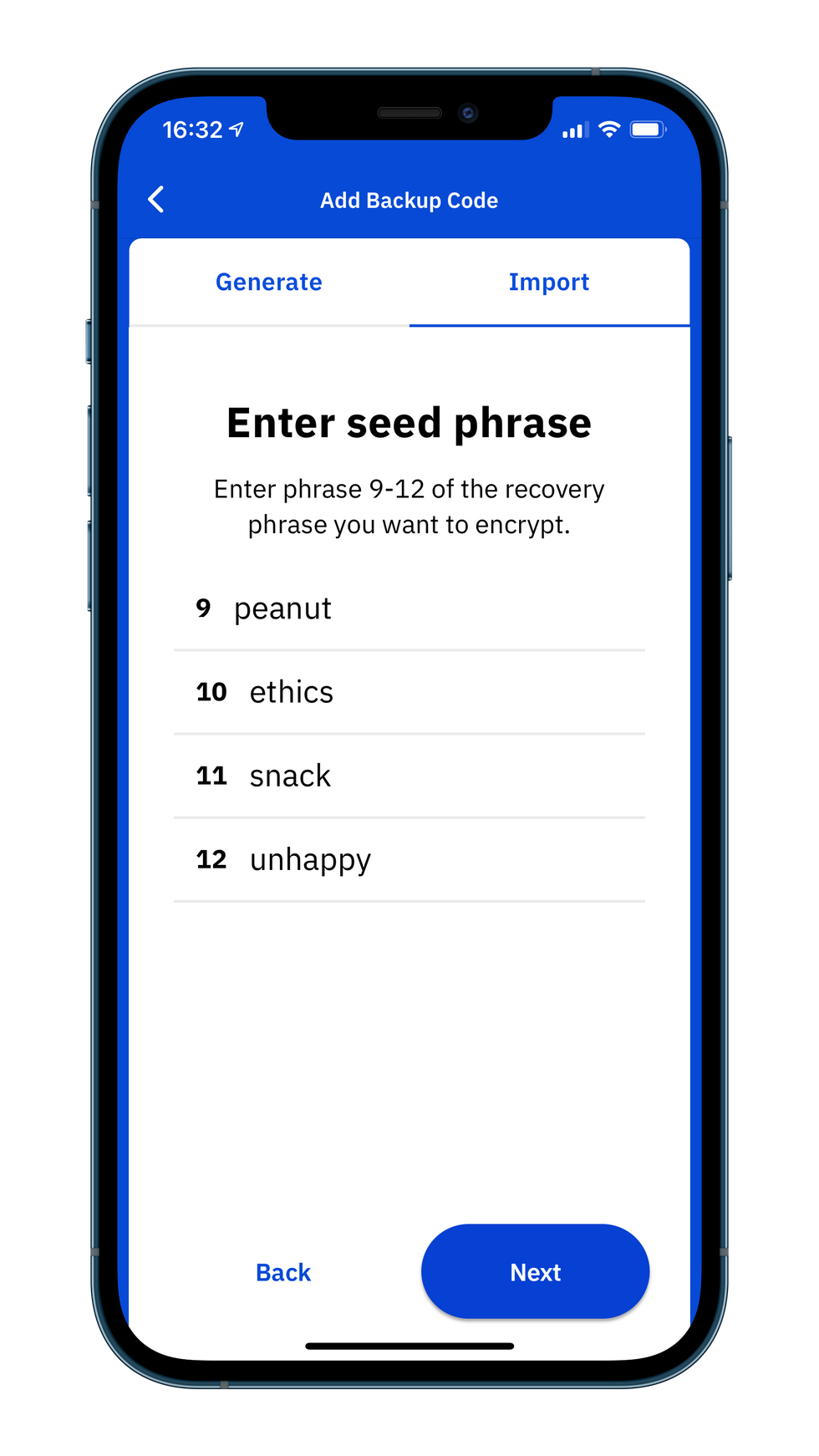 Complete entering the seed phrase words
Store encrypted Seed Phrase
Once you have entered all of the words and clicked the "Next" button, the seed phrase will be encrypted, split, and distributed to your Guardians, and the seed phrase asset will be locked.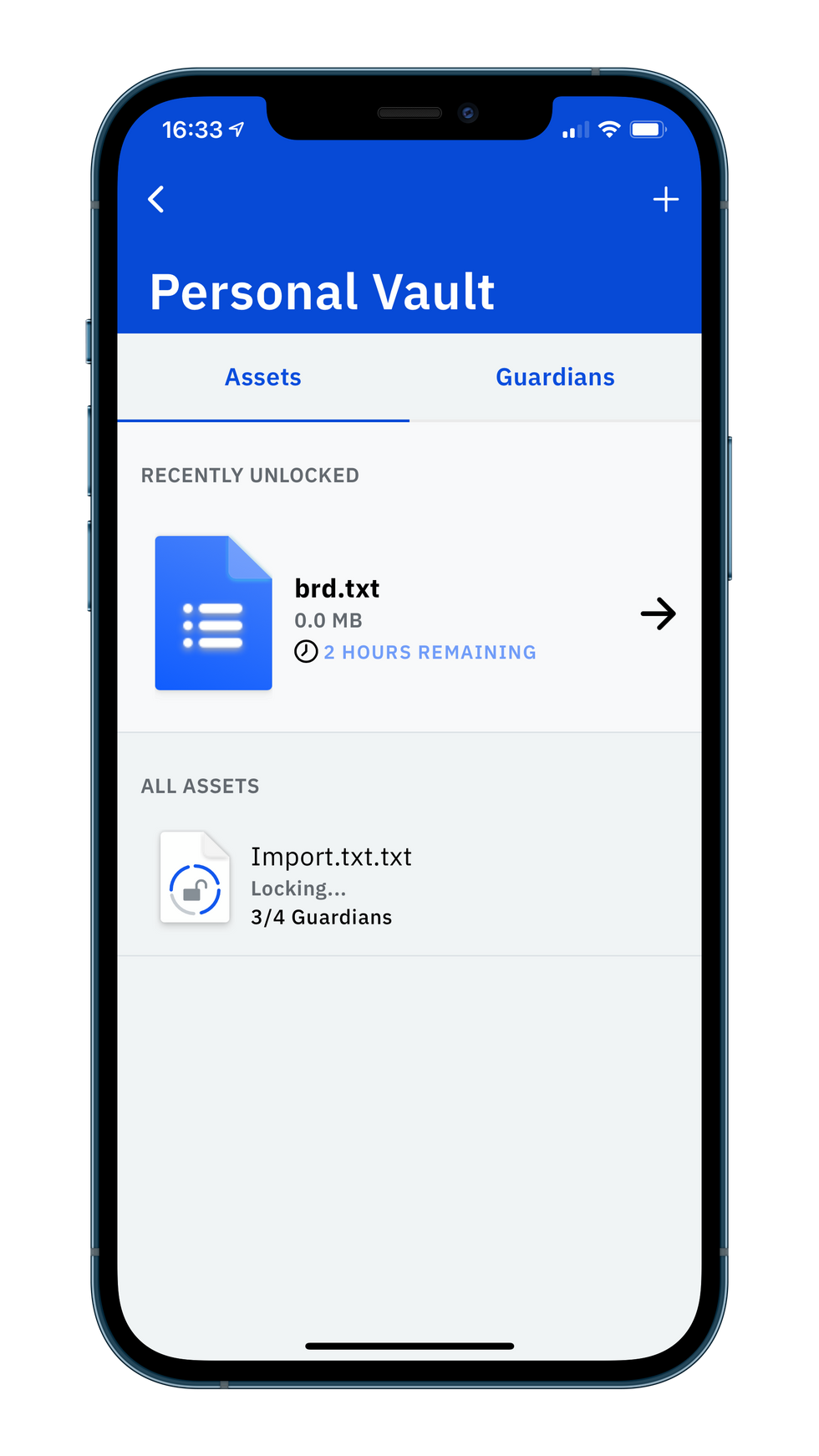 Seed phrase added to the Vault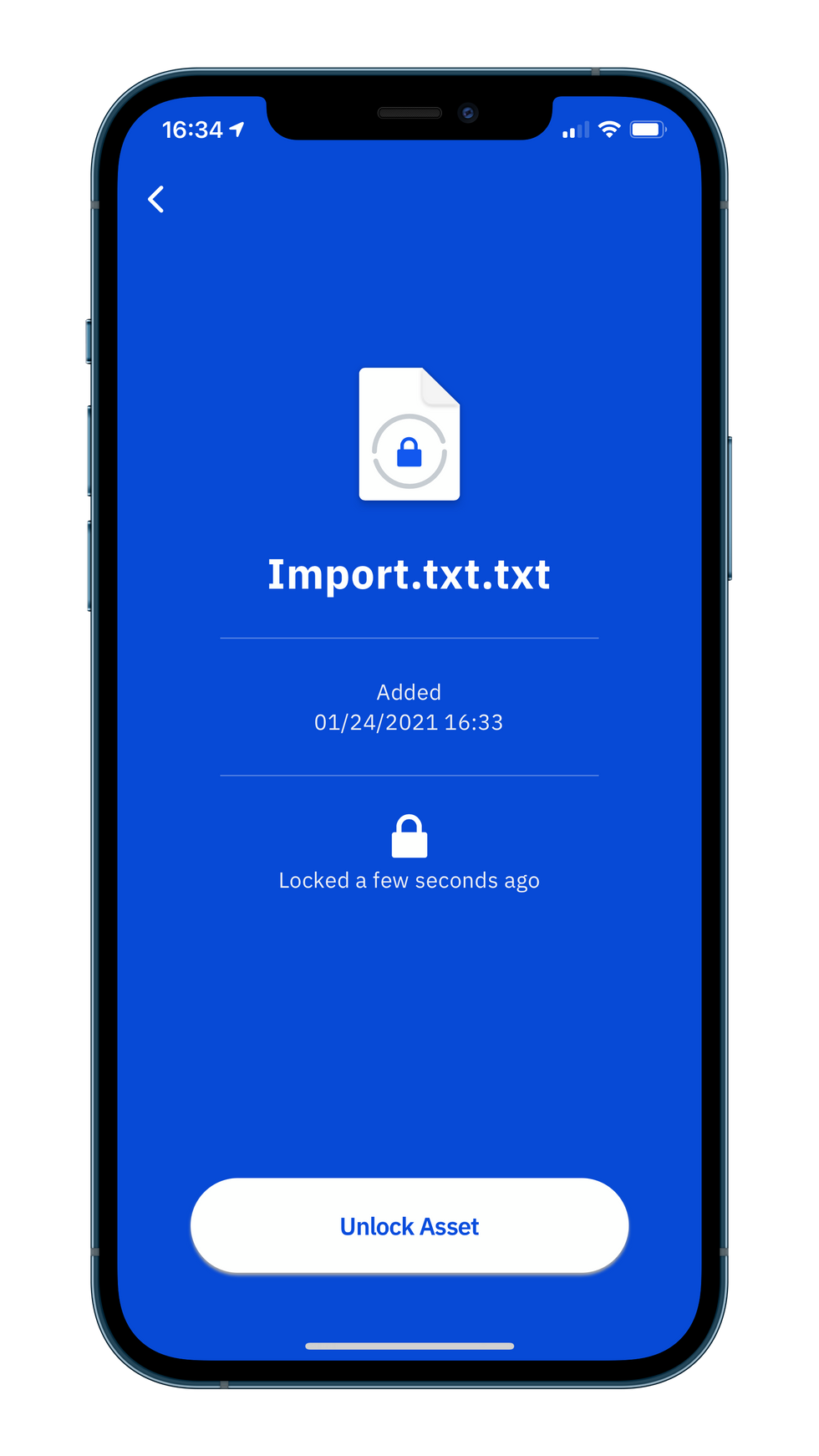 Seed phrase now part of Vault and locked
Access and unlock Seed Phrase asset
By default your asset will remain locked. To unlock and access your seed phrase, check out this article.
Once unlocked, your seed phrase will be displayed so that you can enter it into a new wallet.
Note: The asset will automatically lock after 2 hours.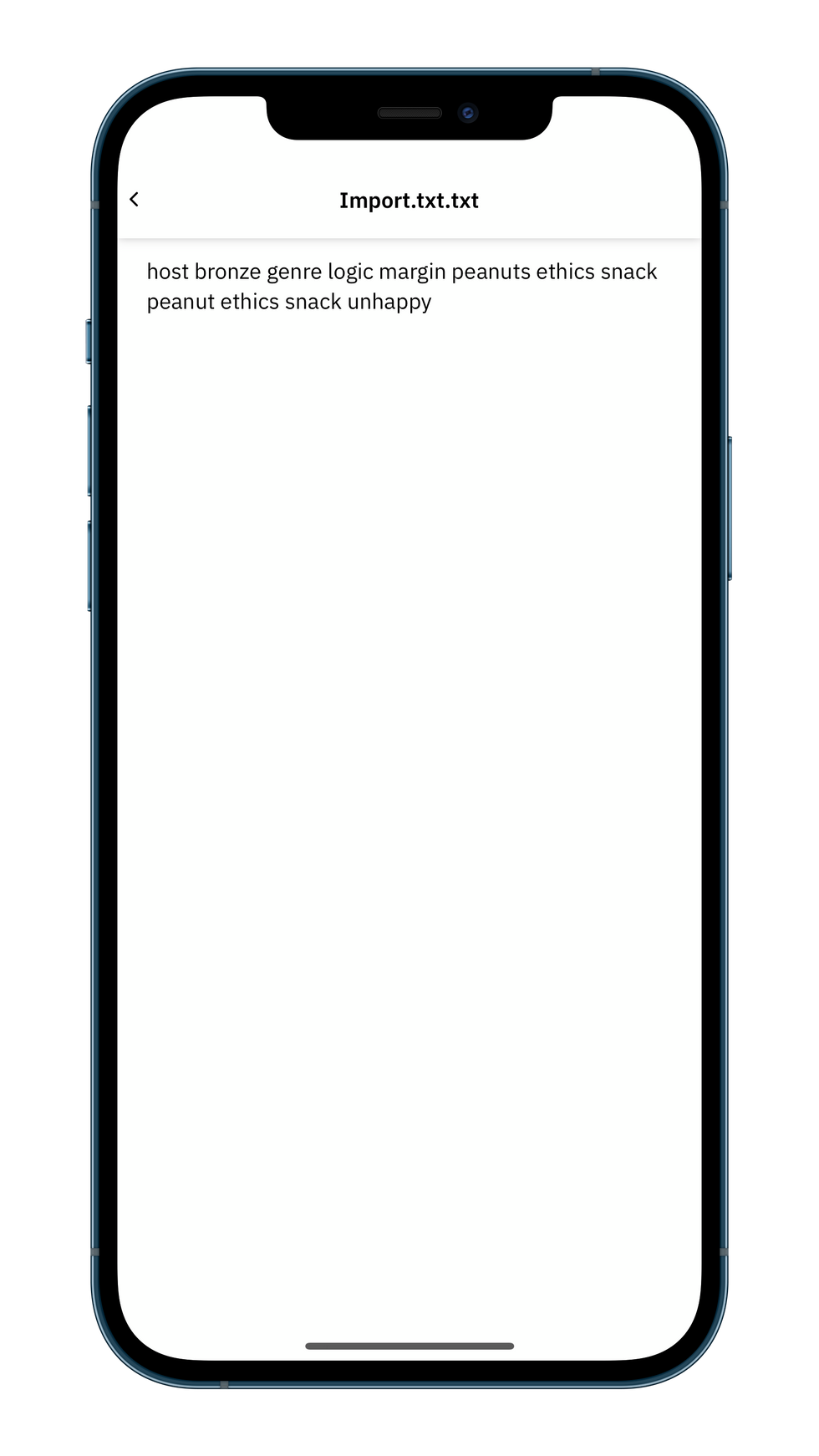 Unlocked seed phrase
Vault12 Learn
If you already have a Vault12 Digital Vault and a Seed Phrase, these steps show how to store your Seed Phrase as a Vault12 asset.
Discover More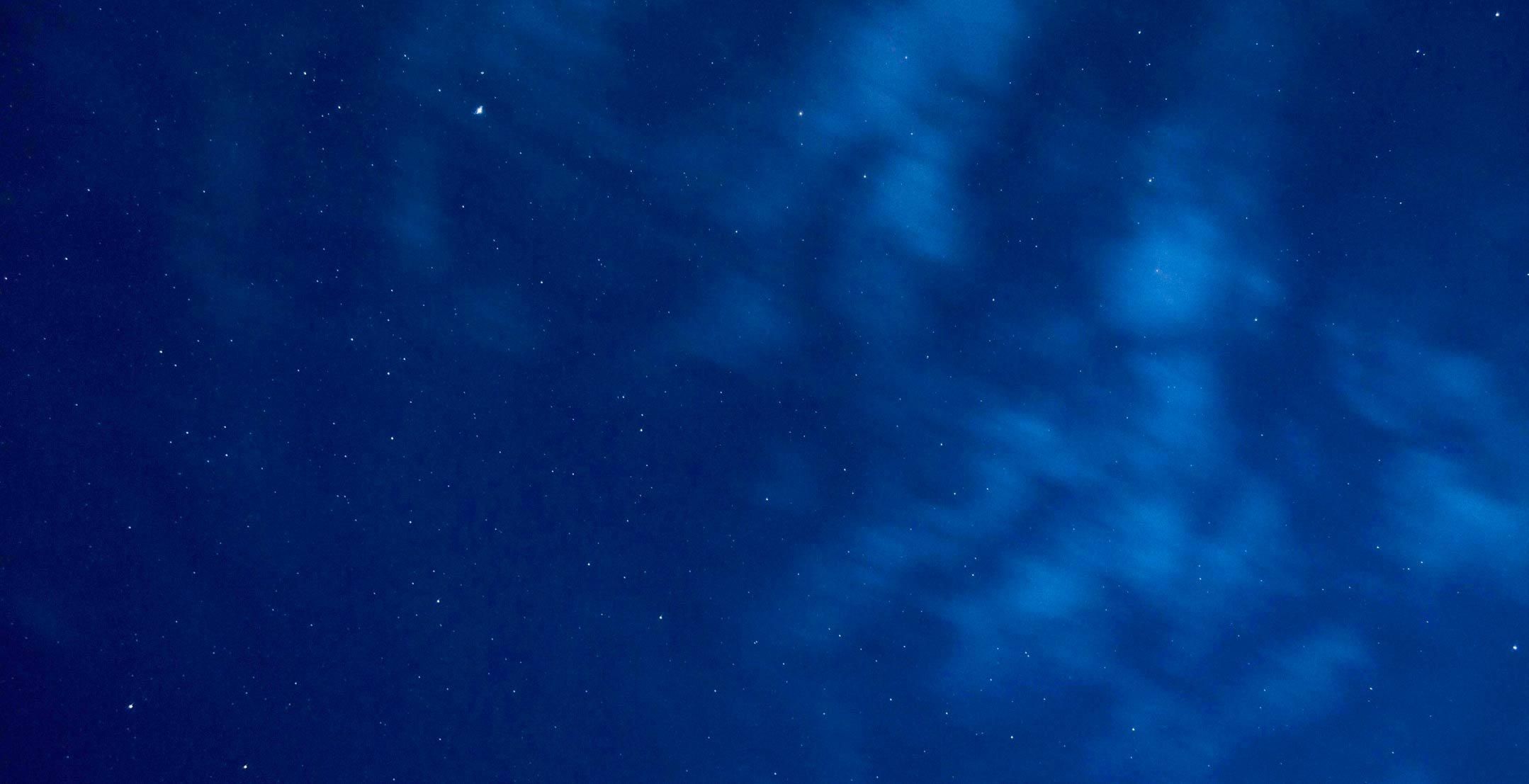 Scroll down
Step-by-step guides for setting up your digital Vault and adding assets, recovering assets, inheriting and restoring Vaults. Vault12 Web3 personal security helps you recover, back up, and inherit all assets stored in your Vault including Bitcoin, Ethereum, crypto, private keys, seed phrases, wallets, NFTs and digital art.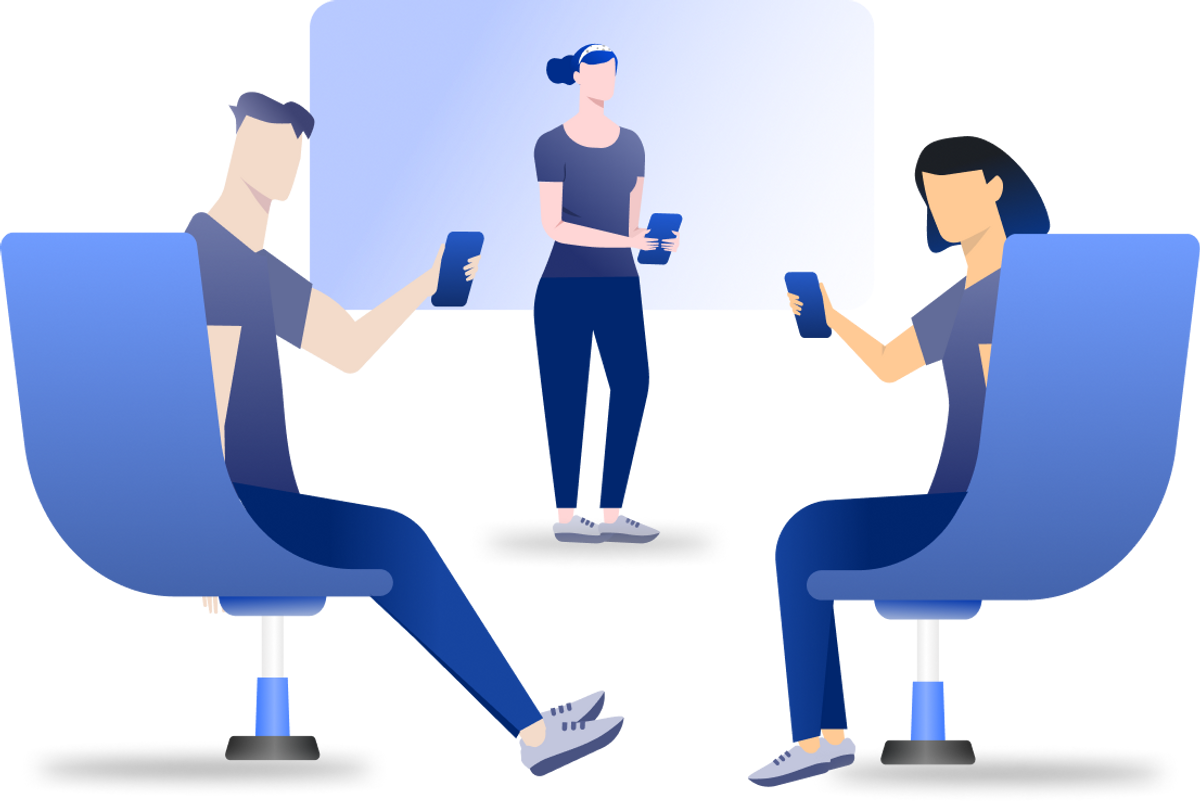 With the latest release of Vault12, now available in both iOS App Store and Google Play we have streamlined how you can use VGT to upgrade your Vault or fund your Vault for future. Right now there is a 50% discount on all plans if you fund your Vault with VGT.
Close
Start protecting your digital assets: Free 30-day trial available today.
Protecting the future of web3 assets
© Vault12. All Rights Reserved, Vault12 Inc.